Eleven countries. Six programs. One medium.
Celebrating 15 years of short films from Asia, Europe, and the United States, presented in Washington, D.C. and online throughout the United States
Fri., June 4 - Fri., June 11, 2021 | Country Pairing Programs
Fri., June 11 - Fri., June 18, 2021 | Festival Closing Program
After a brief hiatus in 2020, EuroAsia Shorts (EAS) returns in 2021 with a new online streaming format and more incredible short films from Asia, Europe, and the United States, presented by embassies and cultural centers based in Washington, D.C., available free to viewers across the United States, June 4-18.
Each of six shorts programs is tied together by the festival theme, Together in Dreams, and includes post-film discussions and special video messages from directors. Join an international cinematic dialogue that is uniquely Washingtonian as we celebrate 15 years of EAS in 2021!
As in 2019, when the festival expanded to represent 11 countries, EAS features five pairing programs, available to stream simultaneously during the festival's first week, June 4-11. Each program showcases an hour of films from two countries – one Asian and one European – followed by a wide-ranging discussion with guest speakers from culture and film. The sixth, final EAS program, as always, features one film from every represented country, including the United States, and a final discussion of the overall festival and theme. This program will be available during the festival's second week, June 11-18. All films are presented with original audio and English subtitles (as needed).
A complete lineup of shorts and country pairings can be found here. Italy's selections for the country pairing program with the Republic of the Philippines are Home Sweet Home by Andrea Zuliani (15') and Krenk by Tommaso Santi (14'55"). Our selection for the final EAS program is Andava tutto bene (We were good together) by Paolo Fulvio Mazzacane (14').
Registration
PLEASE NOTE: All EAS 2021 programs are free to view and require advance registration. All programs and limited to viewing in the United States and ticket quantities are limited.
HOME SWEET HOME
by Andrea Zuliani (15')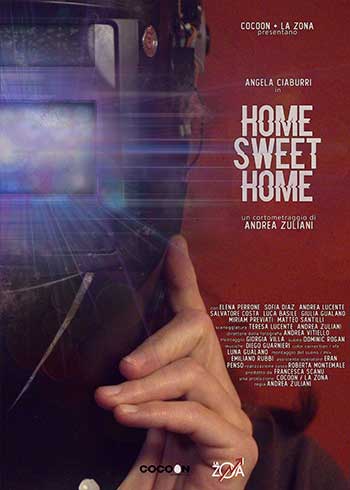 Synopsis: During the lockdown, Aria, a young single woman, lives her days with a sense of increasing emptiness. Until one evening, she receives an anonymous package. Inside, there is a strange helmet. When Aria wears it, she finds herself in an unknown world. Will everything be alright?
Director's Profile: Andrea Zuliani is a director, writer and producer. In 2008, he started working as second assistant director and, from 2012, as an assistant director. Andrea has worked on films from acclaimed Italian directors such as Federico Zampaglione, Ricky Tognazzi and, more recently, on the film "18 Presents" by Francesco Amato. Andrea is currently working on his first feature film as director.
KRENK
by Tommaso Santi (14'55")
Synopsis: From a land far away, a new student arrives. Who is he? Where is he from? He's Krenk, so extraordinary that he scares you.
This short also inspired a children book and more info on Krenk and his story can be found at TommasoSanti.com
Director's Profile: Playwright, screenwriter and film director, Tommaso Santi is the author of many film documentaries, including "Restoring the sky", a film on the restoration of the Basilica of the Nativity in Bethlehem, winner of the Grand Prix of the foreign press at the Italian Golden Globes in 2017. His short "Krenk" won the "Migrarti" prize at the Venice Film Biennale in 2018.
ANDAVA TUTTO BENE (We were good together)
by Paolo Fulvio Mazzacane (14')
Synopsis: Erika and Matteo are no longer happy together. The lockdown has exhausted them, as a couple and as individuals. In an attempt to save their relationship, they decide to see a psychologist. But confiding and opening up brings some unexpected consequences...
Director's Profile: Paolo Fulvio Mazzacane graduated at the University of Rome "La Sapienza". He began his film career in 2011 with the short film "Scala A / int.17". So far, he has directed eight short films. Paolo Fulvio also studied theater and attended various screenwriting courses both in Italy and in the United States.
Partner Organizations / Countries